In our virtual team meetings, we've been talking about how to help home office workers. But what can we do to help essential workers, outside of their homes? Now is not the time to provide training or workplace assessments. Some of these jobs are more demanding than ever before – those of us who are not in the health care field stand in awe of health care workers and their dedication.
You and I can do things to make essential workers' jobs easier, as we go about our daily lives. Here's how: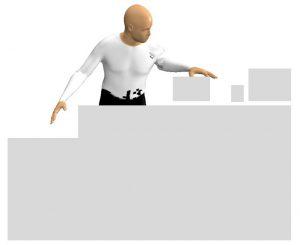 At the grocery store…I think we can all see that, even in more normal times, a grocery store clerk uses repetitive awkward postures to scan and pack your purchases.
As you load items onto the belt, consider how the cashier is going to scan them, and place them in a way that makes scanning easier. Orient items on the belt so they can be slid across the scanner (bar code facing forward, so that the cashier can see it, or face down for common items like bags of milk and bread). Large items that stay in the cart can be placed so that the cashier can use the hand-scanner without bending, reaching, or twisting.
The cashier shouldn't touch your re-usable bags, but you can. Select the packing option that requires the least effort for the cashier – packing items loose into the cart (and then bagging them when you get to your car), purchasing single-use bags, or, if you can stay 6' away from the cashier, packing items into your own bags at the cart. Some cash registers have a long enough belt that you can stand at the end, and convey the items toward you by pressing your own button. (Remember to sanitize your hands before and after using the button.) Also, throw your reusable bags in the wash, and wipe down bins after unpacking your groceries!
Follow the store's rules, so you don't waste store resources on enforcement. Follow the arrows on the floor, keep your distance, and wipe down your own cart.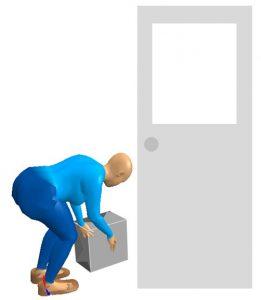 For delivery services…These jobs involve a lot of driving, and climbing in and out of the vehicle. But the also involve manually handling items at less-than-optimal heights.
Make your address easier than ever to find, especially if the number is hard to see in the dark or from the street. Provide instructions to the driver, if your apartment is tricky to find. This minimises wasted time attempting deliveries at the incorrect address.
Provide an obvious and ergonomic location for delivery staff to leave items…a bench or table is more comfortable to use than the ground or doorstep. If your home has stairs, leave a note to say the driver can leave the package at the bottom of the stairs, if you're able to retrieve it yourself.
Leave a note out to thank the driver. Better yet, if you're home, give a wave and a smile to brighten the day, and to reassure the driver that you'll pick up the item before someone else does.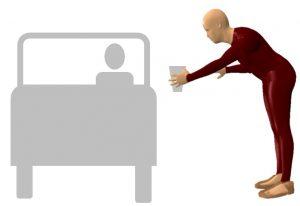 Restaurant drive-throughs….These employees are busier than ever, and if you've ever watched the tasks from inside the store, you should appreciate that drive-through windows are usually not very "ergonomic". But we can help…
Pull up as close as possible, to minimise the reach required for both you.
Use no-touch tap, or retrieve the debit machine promptly when offered, and reach out to place it as close to the employee as possible when you're done.
Similarly, immediately reach out as far as possible to retrieve your purchases, so the employee doesn't have to reach as far.
And everywhere you go….
Follow the friggin' rules. People who understand public health better than you and I are creating these rules for everyone's protection. It's a terrible waste of essential service resources to enforce rules.
Use the tele-health services that are available, rather than visiting a clinic, whenever possible. Most family physicians are taking telephone or even video-conferencing appointments – call your family doctor first!
Demonstrate patience, even when you don't feel patient. Your frustration only makes essential workers' jobs more stressful.
When we get back to normal, we'll likely have a better understanding of how we can re-design some of these jobs to reduce the risk of strains and sprains. In the meantime, let's all do our part to help essential workers get home safely and comfortably, every day.